I have not been very motivated to read lately, so I've been taking it easy book-wise. Last week, I re-read a favorite of mine,
I Capture the Castle
. A couple of random points: It was written by Dodie Smith, the author of
One Hundred and One Dalmations
. As in, the book that inspired the Disney movie?
I Capture the Castle
has also been made into a
movie
, and surprisingly, the movie is pretty good. I'm always wary of watching movies adapted from novels that I love...I almost always end up disappointed. In this case, the novel is better, of course, but the movie captured the essence of the book.
I Capture the Castle
by Dodie Smith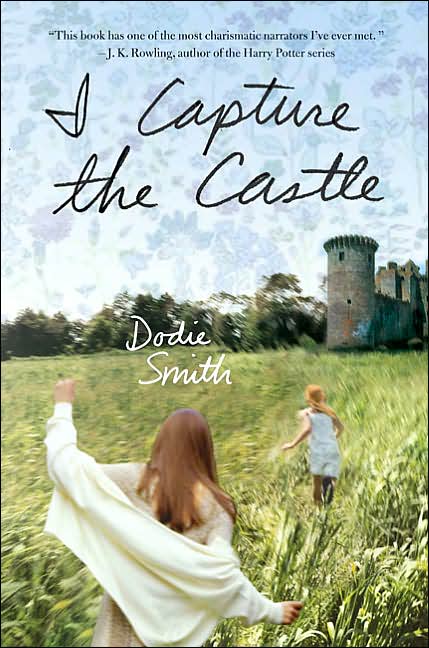 I Capture the Castle tells the story of seventeen-year-old Cassandra and her family, who live in not-so-genteel poverty in a ramshackle old English castle. Here she strives, over six turbulent months, to hone her writing skills. She fills three notebooks with sharply funny yet poignant entries. Her journals candidly chronicle the great changes that take place within the castle's walls, and her own first descent into love. By the time she pens her final entry, she has "captured the castle"—and the heart of the reader—in one of literature's most enchanting entertainments.
My Take:
I've read this book several times, so I obviously love it. The narrator, Cassandra, is quirky, intelligent, brash, and slightly awkward (she's 17.) She's also incredibly loveable, as all of the characters are. There is a great deal of humor in this book. Nearly all the characters have a dry, quick wit that English authors are often famous for. This is essentially a love story. Both Cassandra and her sister Rose fall in love by the end of the novel. But even more, it is a coming-of-age story. Over the course of the novel, Cassandra matures into an adult, although she's a very
young,
naive adult.
My Recommendation:
Definitely read it! I've
forced
urged a number of people to read this book, and they have all enjoyed it. This includes my mom, my cousin, a friend, and even my brother. There's something for everyone!