Kitchen Essays
by Agnes Jekyll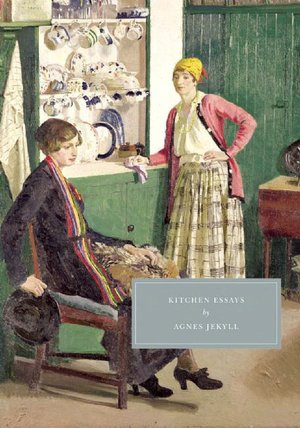 The author of
Kitchen Essays
(1922) was sister-in-law to the great Gertrude Jekyll, whose biographer wrote that if she 'was an artist-gardener, then Agnes was an artist-housekeeper.' Agnes was a famous hostess (the guests at her first dinner party included Browning, Ruskin and Burne-Jones) and her home, Munstead House, 'was the apogee of opulent comfort and order without grandeur, smelling of pot-pourri, furniture polish and wood smoke'.
During 1921-2, Lady Jekyll wrote unsigned essays for The Times with titles such as 'Tray Food' and 'Sunday Supper'. ...India Knight in The Shops called it 'beautifully written, sparkling, witty and knowing, an absolute delight to read', while the BBC Food Magazine praised 'this exquisitely reprinted period piece'.
My Take: I thoroughly enjoyed this book, which is chock-full of recipes, menus, cooking tips, and entertaining advice....for the 1920s hostess, that is. It's another title by Persephone Books, which reprints popular but forgotten books from the early 20th century. It's amusing to read about things like the perfect menu for luncheon after a shooting party. Jekyll takes for granted that her readers have a cook, or at least a servant girl. Because I love to cook, I enjoyed reading Jekyll's recipes, which often include inexact measurements (like a walnut-sized piece of butter) and a whole lot of aspic.
My Recommendation: I thought this was a fantastic book, but it's probably not for everyone. I think it would interest anyone who enjoys cooking, or who is interested by daily life in the early 1900s.
The Loved One

by Evelyn Waugh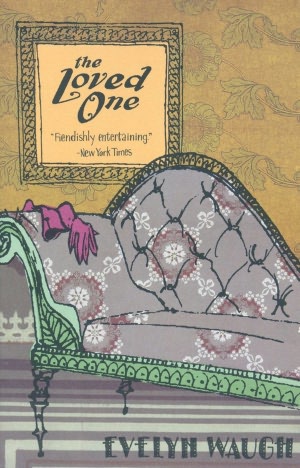 Mr. Joyboy, an embalmer, and Aimee Thanatogenos, crematorium cosmetician, find their romance complicated by the appearance of a young English poet.
The novel concerns the experiences of a young Englishman living in southern California. It attacks the snobbery of Englishmen and the stupidity, vulgarity, and intellectual sterility of Americans.
My Take: I have to say, it took me quite a while to get into the swing of this book. I started getting into it about 1/3 of the way through. After that, I really enjoyed it. It's pretty classic Waugh. Satire, wit, humor, and shameless mockery all in one little novel.
My Recommendation: Again, I don't think this book is for everyone. If you've read Waugh before and liked him, I'd recommend this book. If not, I'd encourage you to read Brideshead Revisited first.