A Homemade Life
by Molly Wizenberg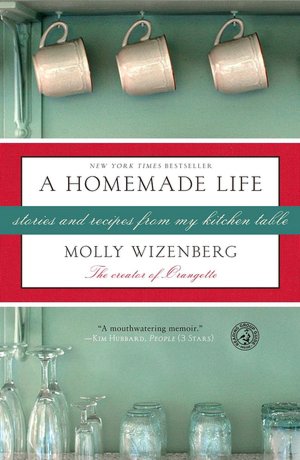 Cotton candy at the state fair. S'mores around the campfire. Hot dogs at a baseball game. Some foods are inextricably linked to events or places. Wizenberg has noted similar associations between food and her own life, and she shares them in this delightful treat of a book. Part recipe book, part memoir, Wizenberg takes us through the moments of her life and the memorable foods that helped mark those occasions. Time-tested and good tasting, her recipes range from the simple to the complex, the healthful to the decadent. Some are original and some are borrowed, but each one marks an event -- important or mundane -- with equal significance.
She candidly shares the heartbreak of losing her father (accompanied by a multitude of dishes dropped off by caring neighbors and friends), recalled in the memory of a comforting pie. And she recounts the memory of her young French love, Guillaume, in the description of a steamy dessert: "Dolloped with crème fraiche, tarte tatin doesn't dally with small talk. It reaches for your leg under the table."
My Take:
First of all, this book is written by a fellow blogger, Molly Wizenberg. If you haven't checked out her blog Orangette, you need to. Both her blog and her book revolve around cooking and food, and how those things have affected her life. She has a slightly self-deprecating and sarcastic voice that I love and share. I'm usually really skeptical when people my age write memoirs, because I doubt that they have had lives worth writing about so far. With A Homemade Life, I'm glad I gave it a chance. Wizenberg has had an eventful albeit fairly short life that I really enjoyed reading about. She has another book in the works, and I can't wait for that one. I'll definitely be reading it.
My Recommendation: Absolutely a must-read. I don't think you even need to enjoy cooking to enjoy the book, as long as you enjoy food. Now go. Buy, borrow, or steal the book and read it right away. No, actually don't steal it.