This week, I only had time to finish one book. I decided to start reading a book that's over 1000 pages long. I'm no longer sure why I did that.
Anyways, the book I did finish was:
The Red Leather Diary
by Lily Koppel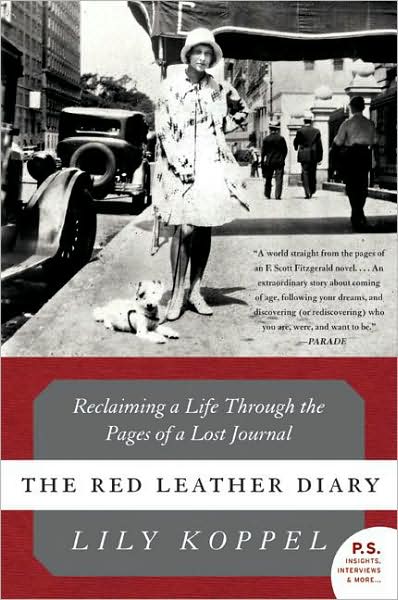 If 22-year-old recent Barnard graduate Lily Koppel hadn't been agile enough to climb into a dumpster, Florence Wolfson's red leather diary might have been lost forever. As it was, Koppel rescued it from a sea of steamer trunks, brought it back to her small apartment, and began an immersion that would last for years. Wolfson's journal tracked her adolescent preoccupations and teenage yearnings from 1929 to 1934 so candidly that Koppel couldn't resist trying to track down its author. When she found her, she met a 90-year-old woman who was eager to be reintroduced to her much younger self.

Joining intimate interviews with original diary entries, Koppel reveals the world of a New York teenager obsessed with the state of her soul and her appearance, and muses on the serendipitous chain of events that returned the lost journal to its owner. Evocative and entrancing, The Red Leather Diary re-creates the romance and glitter, sophistication and promise, of 1930s New York, bringing to life the true story of a precocious young woman who dared to follow her dreams.
My take: This is a solid book, for sure. It definitely gives you a glimpse into the life of a young woman in the 1930s, if you're interested in that time period. The only thing is that it seems a little disjointed. I think part of it is because there are essentially two authors: Koppel and Florence Wolfson. Even so, sometimes it feels like Koppel jumps backward and forward in time. That could be on purpose, because the thoughts of adolescent girls aren't exactly coherently organized. In any case, it's only slightly off-putting.
My recommendation: Put it on your reading list, but don't put it at the top of your list.