You've probably already heard, but Tuesday was the 200th anniversary of Charles Dickens' birth. In anticipation of the day, I decided to read something Dickens-related last week. I've had
The Girl In a Blue Dress
on my bookshelf for months now, and last week was the perfect time to read it.
The Girl In a Blue Dress
by Gaynor Arnold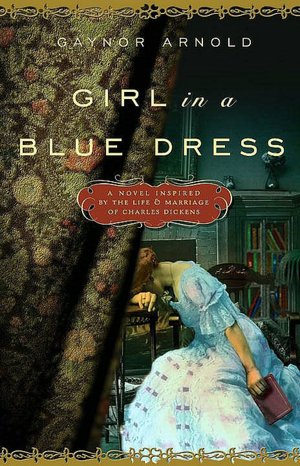 In Alfred Gibson the fierce energy and brilliance of the most famous of the Victorian novelists is recreated, in a heart-warming story of first love—of a cocky young writer smitten by a pretty girl in a blue dress.
Alfred Gibson's funeral has taken place at Westminster Abbey, and his wife of twenty years, Dorothea, has not been invited. Her younger daughter Kitty comforts her, until an invitation for a private audience with Queen Victoria arrives, and she begins to examine her own life more closely. Uncovering the true deviousness and hypnotic power of her celebrity author husband, she'll now need to face her grown-up children—and worse—her redoubtable younger sister, Sissy and the charming actress, Miss Ricketts.
My Take: This novel is loosely based on the life of Charles Dickens, focusing on his often estranged relationship with his wife Catherine. While the character of Alfred (Charles) is prominent in the novel, it is written from the point of view of Dorothea (Catherine.) This book had a funny effect on me. I disliked the characters, and yet, I liked the book very much. Alfred is portrayed as an egotistical and domineering father who cares more about fame than his family. Dorothea is content to play the martyr for most of the book, which usually drives me crazy. In spite of that, I liked the book! Go figure.
My Recommendation: If you are interested in Charles Dickens, I think you should at least consider reading the book. There are quite a few references to his novels and writing, so that would be interesting. There is a great deal of accurate historical detail, both about the relationship between Dickens and his wife, but also about the daily lives of Victorian women. It was a solid read. I didn't love it, but then again, I don't expect to love every book I read.