I've had a little Christmas tradition for the last decade or so. I read Christmas themed books the entire month of December. I always read at least one story out of my beautifully hardbound copy of Charles Dickens' Christmas books. I got it as a Christmas present back in high school, and I've read it every year since. It's been quite a while, so that particular version is out of print now, but it's similar to
this one
. I read
A Christmas Carol
every year, and at least one more story. Last week, I read
A Christmas Carol
as well as
The Cricket on the Hearth
.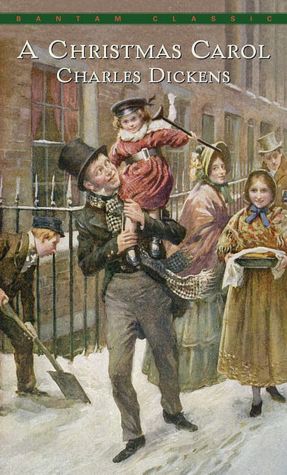 A Christmas Carol
by Charles Dickens
Cruel miser Ebeneezer Scrooge has never met a shilling he doesn't like. . .and hardly a man he does. And he hates Christmas most of all. When Scrooge is visited by his old partner, Jacob Marley, and the ghosts of Christmas Past, Christmas Present, and Christmas Yet to Come, he learns eternal lessons of charity, kindness, and goodwill.
My Take:
I just love, love, love this story. It never fails to put in the Christmas mood. And it never fails to make me reconsider the whole consumerist attitude toward Christmas. At least for a day or so, I refocus on the true meaning of Christmas.
My Recommendation:
If you've never actually read this story, I highly encourage you to do so. I know some people shy away from Dickens, having been forced to read
A Tale of Two Cities
or
Great Expectations
in high school. This is different! Trust me.
The Cricket on the Hearth
by Charles DickensThe story of John Peerybingle and his family who are visited by a guardian angel in the form of a cricket who is constantly chirping on their hearth.
My Take:
This is a wonderful little novel very much in the same vein as
A Christmas Carol
. It's rather idealistic and highly moral, but I love it because of that. Some people would probably dislike the very Victorian concept of home and family, but that's what I like about it.
My Recommendation:
If you've read
A Christmas Carol
and liked it, then I highly recommend
The Cricket on the Hearth
. It actually received better reviews than
A Christmas Carol
when it first came out in 1845.